Today I'm excited to bring back a series that has been in hibernation for a while - Getting to Know You! I love to feature my favorite bloggers, etsy sellers and designers here on Maggie Rose with some questions about how they find inspiration, what's coming up with them next, and what their favorite things are. Today we have the adorable and driven style blogger Jill Gott-Gleason who writes Jill GG's Good Life for Less, Good Tots for Less (where I have my guest series) and 100*Inspirations (celebrity fashion). Considering that Jill has two little ones at home and a home to care for, I'm constantly impressed and inspired by all she manages to do! Hopefully below she'll spill some of her secrets of success! Here's Jill:
A huge thanks to Maggie for having me here today... I've been reading Maggie's blog forever and she lives in one of my MOST favorite cities in the world - Seattle! So I always feel like I am in good company with her. On to the Q & A!
1. Your business is constantly evolving - how do you keep those creative ideas coming?
I am a huge fan of The Success Principles by Jack Canfield. I am reading it again for the second time. But one of the biggest take-aways I have had from that book is his theory on visualization. He says the following "Visualization activates your subconscious mind to create solutions for getting the goals you want. You'll start waking up in the morning with new ideas. You'll find yourself having ideas in the shower, while you are taking long walks, and while you are driving to work." This is 110% accurate for my life and I have loved taping into this resource in the past year.
I have huge personal goals and I am currently depending on my blog and my work through my blog to get me there. For instance if you want a glimpse into my own visualizations they include extended trips to Europe with my family (particularly weeks spent in Paris in the summer) and owning a little quaint cottage on Lake Michigan. Big stuff for sure! I focus a lot of thought on where I would like to be. And it's almost magic how the ideas materialize. Then of course it's up to me to carry them out. That part isn't so magical... but none-the-less exciting.
2. How do you stay organized with all the projects you have going on?
Organization is KEY for me. Right now I am juggling three blogs (good life, good tots, and one hundred inspirations). I am also very busy with wardrobe consultations and the "it" list. AND I just released my seasonal looks:book for winter & holiday. So I have A LOT of balls in the air right now. Oh, and I am the mother of two small kids (Noah, age 6 and Abigail, age 3) and I manage our household. Whew!
I have a few ways that I keep organized. One is lists. I use white note cards and keep lists by subject going at all times. So I have a list for the "it" list, a list for good tots and for good life and for Christmas shopping and for personal stuff and the list (of lists!) go on! I also heavily depend on "labels" in gmail. I don't like folders because if it is out of sight it's out of mind for me. So labels are perfect for organizing my email - mostly as it pertains to my blog. And lastly I like to make a skeleton schedule for blogging weeks in advance. So when I have blog ideas I save them as draft posts in blogger with future dates on them. That way when I sit down to blog I already have the subject of the post figured out (which is sometimes the hardest part), I just have to put together the content.
3. I have $50 to spend - what fashion purchase will get me through to April?
Oh boy... there are so many great options.
A great scarf can go a long way with sprucing up an outfit. I personally love a creamy white pashmina style scarf, it can go with anything. OR hit up DSW or Old Navy for a great pair of knee high boots. They are great with leggings, skinny jeans, dresses and skirts. OR lastly I would hit up Charlotte Russe or Forever 21 and drop the money on some fun accessories to spruce up what I already own.
4. What are you most excited about right now?
I am always excited about where my blog is going... it seems to have been really gaining momentum lately and if you are a blogger you know how exciting that can be. I just released my winter & holiday looks:book... which is a mini e-mag that I produce each season... so that is very exciting!
But on the personal side I am very excited for the holidays. My goal this season is to slow down a bit, enjoy the season and take some time to celebrate the holiday season with my kids and family through baking and nesting a bit. I feel a need to pull away from the computer a bit lately and hope to replace it with meaningful activities with my family that will create memories. I tend to be a work-a-holic, so these simple things can be tough for me... but my kids are at such fun ages now where the holidays are magical and I don't want to miss out on that.
Of course I will still be blogging... but I hope to do so with more balance.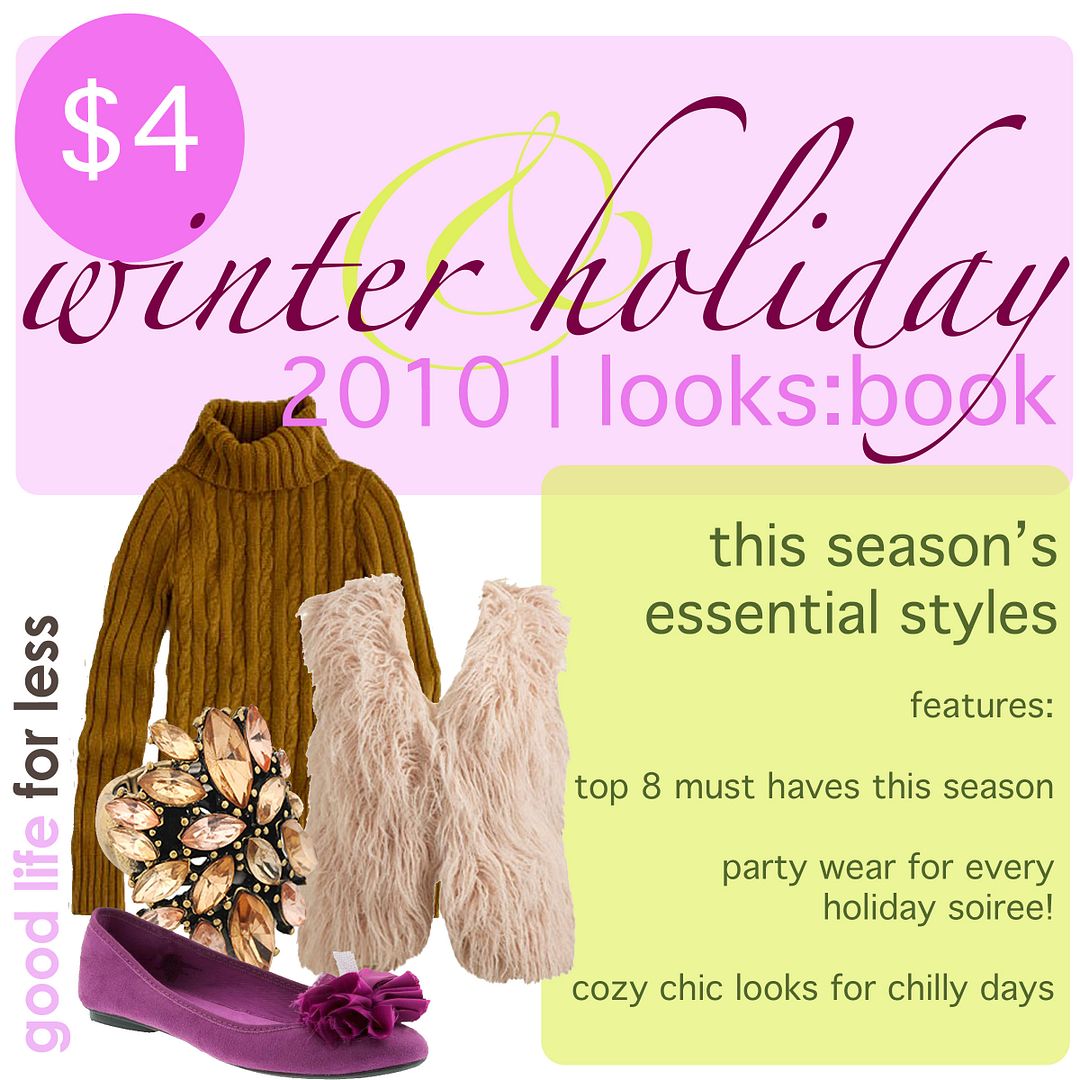 5. What's your favorite way to indulge after a long day of runny noses, emails, and errands?
Lately it is spending time with my husband. I tend to want to be alone when I am maxed out, but lately I feel like my husband and I are both so busy that reconnecting at the end of the day has a new special-ness to it. We love to watch movies (we are addicted to Netflix) or catch up on our favorite shows on hulu. We love to get a bottle of wine, a ton of specialty cheeses and crackers and bread and just gorge ourselves after the kids are in bed. It's so simple but fun. I super love my guy. It's cliche but it is REALLY hard to stay connected with kids - and I find it more so as the kids get older. The family becomes busier and our careers become busier.
6. Any tips for someone wanting to break into fashion blogging?
I think this would go for any type of blogger, and that is: BE YOURSELF. Pick a topic that you will never tire of writing about or researching and then be yourself. When I first started taking pictures of my outfits I was very intimidated because I don't live in fancy New York City, I don't have an endless budget or a boyfriend that is a professional photog. But what I learned is that as a regular 'ole gal in suburbia, with a busy mom lifestyle and a very "machine washable" style that I had my own unique voice that a lot of ladies relate to. It turns out that posting photographs of my outfits was a hurtle to greater blog success... I'm glad I "cleared" it, so to say.
My other piece of advice is to always strive for "better" - even small changes here and there or tweaks to your blog or your writing style, etc. I just try to get better at what I do each day.
Lastly I would say to be patient with the process. Some bloggers have a seemingly instant voice and popularity. I have been blogging now for over two years and it is still a daily challenge and process. I will also say that my voice in the blogging world now - as opposed to what it would have been five or ten years ago - is more meaningful that it could have been. Being in my thirties I get intimidated by these young and fresh voices on the blogging scene. But I find my confidence in my experience in life and for each person that will be different.
7. What's coming up on the horizon for you and the business?
Oh boy... I guess I really don't know for sure. What I do know is that 2010 was an amazing year for the blog. I hope that 2011 is just as fun and successful. I have a lot of confidence that there will be some new and great things in the future!
If you know me I always have about four ideas on the back burner. I guess at this point it's just a matter of what materializes first. I do have two ideas brewing for e-books. But I lack the time and resources at this point to see it to fruition (the whole mom/kids/three blog thing, you know!?). I would also love to start putting together a real in-the-flesh book proposal. What will come of all that though is unknown. You'll just have to stay tuned, I suppose!
8. On your holiday wishlist...
Once my husband and I had kids we kind of stopped buying gifts for each other - that is so not fun, huh? But a gal can always dream... I would love a new gold boyfriend style watch, I will always accept gifts in handbag form and in a dream world Santa would deliver new glistening white upholstered living room furniture on Christmas Eve. That may have to wait until spring though. Or five years. Who knows!
Thanks again for having me Maggie!